Serotiny - A characteristic of some seed plants in which the plant will only release seeds in response to some sort of environmental trigger. The trigger could be:
- Fire (pyriscence)
- Drought (xyriscence)
- Rain (hygriscence)
- Death of the parent plant (necriscence)
Fire is the most common condition for serotiny and the one that has been studied the most. Sometimes the word serotiny is used to refer to that specific case, but it really refers to the broader definition of any seeds that are released by environmental triggers.
Some plants are not entirely serotinous. They may release some seeds in the absence of the trigger and release more if the trigger occurs. Others may store their seeds to eventually be released, but will release them early if the trigger happens. In that case they might be called facultatively serotinous.
Serotiny is known to occur in at least 530 different plant species.
#science #nature #ecology #botany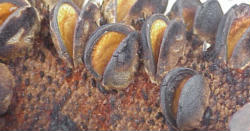 Support the author
This author accepts donations via the services listed below. Your donation will help them continue to create great content!
* Lernabit doesn't take any of the money from your donation, but the donation services or payment processors might take a fee. These trademarks are the property of their respective owners.