VWAP is Volume Weighted Average Price. It is a technical indicator that shows the average price that a security was traded at throughout the day based on the volume for each period and the average price for that period.
It can help determine a fair price for a stock.
The goal is to buy at a price below VWAP and sell at a price above VWAP.
VWAP can also be used to predict intra-day movements because when the price diverges from VWAP it will often converge back toward the VWAP.
VWAP is not the same as a moving average. A moving average will use a set number of periods. For example, a 10-period moving average only uses the last 10 periods. A VWAP is cumulative, using all periods for the whole day, so as the day goes on the VWAP will use more and more periods in its calculation.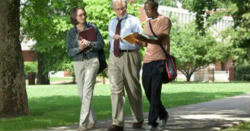 Volume-Weighted Average Price (VWAP)
The volume-weighted average price (VWAP) is a statistic used by traders to determine what the average price is based on both price and volume. Whether a price is above or below the VWAP helps assess current value and trend.
Support the author
This author accepts donations via the services listed below. Your donation will help them continue to create great content!
* Lernabit doesn't take any of the money from your donation, but the donation services or payment processors might take a fee. These trademarks are the property of their respective owners.